Online Poker Platform
Silver
Silver is the back office system used for managing an online poker business. It gives you complete control over every aspect of your business: configuring online poker tables and online poker tournaments, protecting your players' and partners' accounts, monitoring financial transactions, settling liabilities, detecting and preventing fraud and collusion, promoting new features and researching player gaming activity and financial results.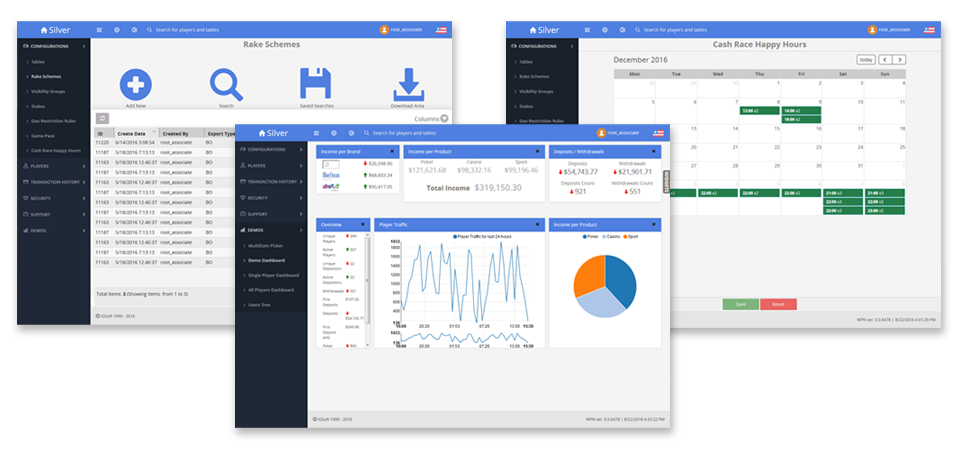 Silver has a user-friendly web user interface and is very easy to work with, contrary to its complex role. It is also very secure and adaptable. Please find next brief descriptions of the most important features of Silver.
Poker Table Management
Silver offers extensive poker table management functionality. You can have existing poker tables listed by particular search criteria: game type, game limit, stakes range, enabled or disabled and so on. In the generated table search report, you can enable or disable a poker table, edit or remove it.

You can create new poker tables and specify all of their characteristics, including such as speed, country flag, if the poker table will participate in the distribution of a jackpot, if players with the same IP address will be allowed to sit on it, if and how soon the system should automatically create a duplicate of that table in case all of its seats are occupied, etc.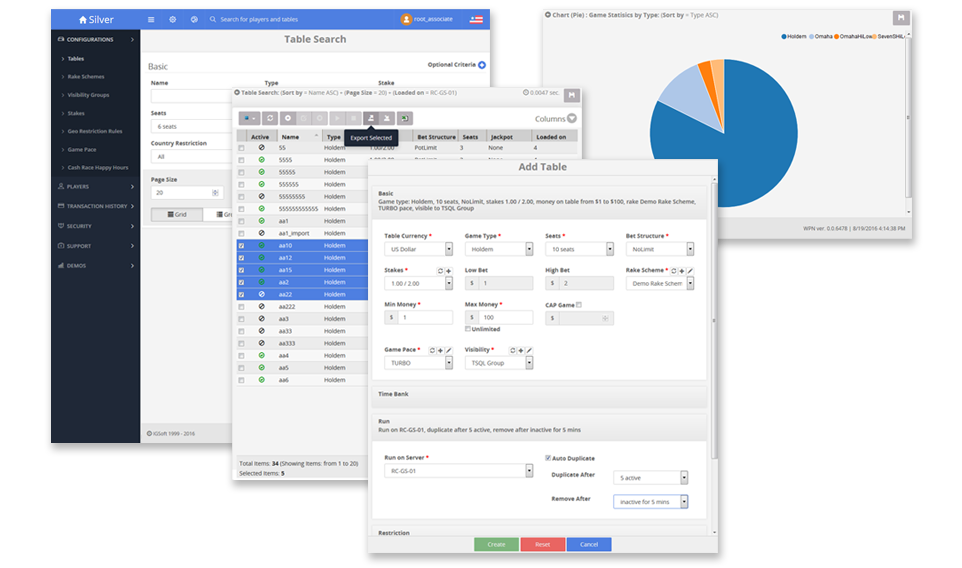 Poker Tournament Management
Online poker tournaments are vital to the success of an online poker business. That is why tournament management in Silver is even more elaborate than table management.

You can again have poker tournaments listed by particular search criteria: game type, game limit, tournament status and so on. In the generated tournament search report, you can edit a tournament, copy it, remove it or list the players who have registered and unregister or block them from further registration
if required.

You can create new tournaments and specify all of their characteristics, including such as number of seats, number of starting tables, tournament prizes, if there will be breaks, if late registration is allowed, if and how many rebuys and re-entries are allowed per player and others. You can practically create any poker tournament type that any casino in the world can offer on-site and also many other tournament types that are simply not possible to host in a brick-and-mortar establishment.

You can also create tournament templates. The platform uses them to create new tournaments automatically when the conditions specified in the tournament templates are met. In this way, you could have a new tournament of some very popular tournament type, for example a guaranteed tournament, start as soon as the previous such tournament ends - your players will be able to enjoy their favorite type of tournament poker for days on end.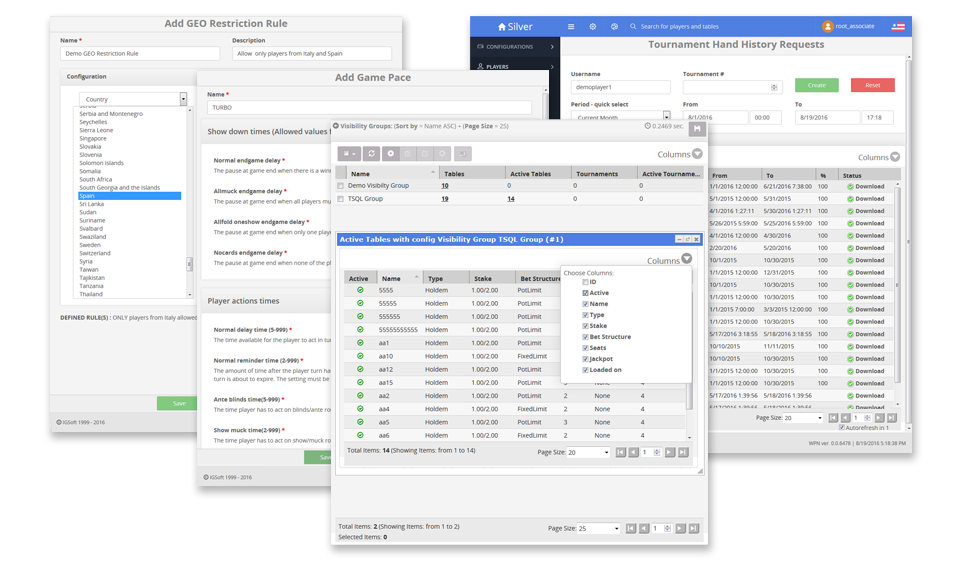 Player Management
In Silver you can view and edit existing player accounts and create new player accounts. To start with, you can locate any of your players who ever signed up or that any of your support staff members ever created by just any piece of information you have about them.

You can assign players user roles and user types and you can add them to user groups with preconfigured payment restrictions. Your support staff members are assigned roles that correspond to their position and rank and in this way they have the corresponding rights to view, edit and create new player accounts.

You can also generate various reports regarding your players' financial transactions, credit score and gaming activity. You have full control over your players' account status and you can ban them if required. The most frequent player operations are also available as mass actions, to be executed for many players at a time.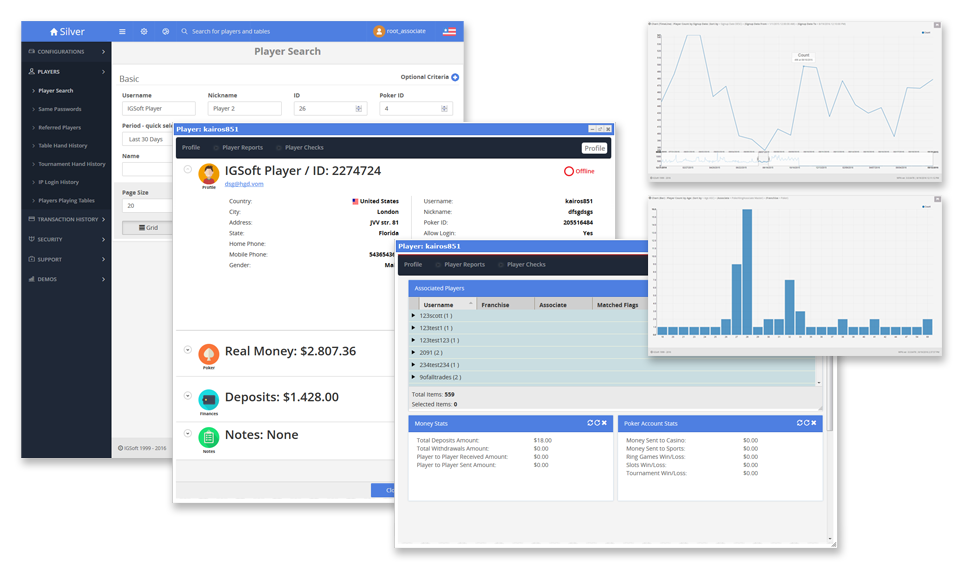 Partner Management
You can settle the financial liabilities you have with your partners in Silver. You can also monitor how the business of your partners is faring through various reports. In Silver you can also set up and manage a network of affiliates. You can promote players to affiliates, generate affiliate activity reports and affiliate earnings reports and settle your financial liabilities with your affiliates.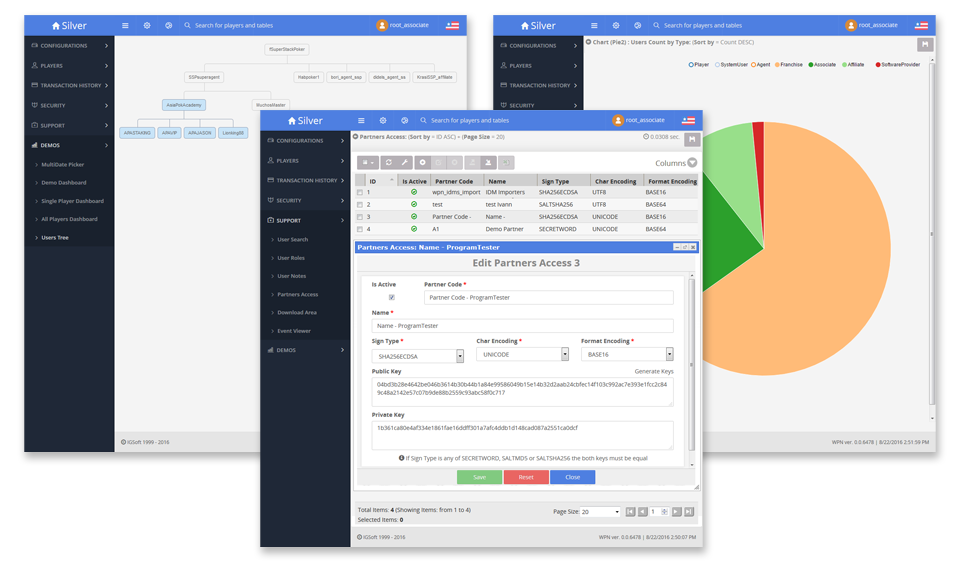 Financial & Accounting Management
One of the most important aspects of Silver is the management of finances. Silver allows such role-based access that every party in a poker network can view and monitor only their finances and financial results and those of their dependent parties. The basic tools used for the financial and accounting management are available as funding, rake and liability reports.

You can monitor, control and execute all types of payments in Silver - via credit cards, debit cards, prepaid cards, using external payment processors, external integrated systems and also make internal payments. Most currencies are supported. All transactions ever executed by anyone are recorded and can be traced by various criteria and closely examined at any moment.

You can enforce payment restrictions on a player or on a group of players, edit, remove and add new payment methods. Any type of financial operation you will ever need is supported and secured so that a completely safe and friendly environment is available for all parties.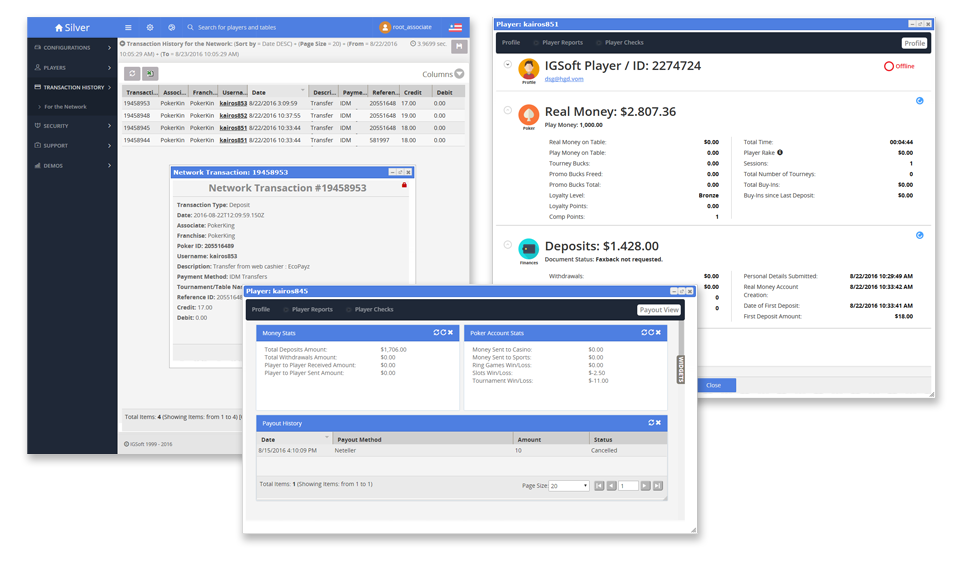 Marketing Management
In addition to the promotional tools described as part of the client software features, which are all managed in Silver, the following additional marketing tools are available:




Online Banner Campaigns: You can create banner campaigns for measuring the success of an online banner, by having its unique clicks and
sign-ups counted.


Automated E-Mail System: Silver has a very powerful automated e-mail system that enables you to create e-mail templates which Silver will use to send
e-mails to players automatically upon the occurrence of a specified event. For example, every time when a new player signs up, he or she may receive a welcome e-mail that can include advertising banners, links, special formatting, etc.


Sign-Up Survey: You can create and configure a sign-up survey that measures and reports the results of an online questionnaire, optionally available to players during the sign-up process.