Free Client Software
Our free client software is one of the most popular and highest-rated poker client applications in the world today. It is available as a desktop application and as a web application.

Our desktop poker client is developed in C++ for Windows and in Flash for Windows and for Mac. It is lightweight, fast, very easy to use, full of exciting features and up-to-date with the latest trends in the online gaming industry. It has minimum hardware requirements and runs and performs perfectly even on very old computers.

Our web poker client is developed in Flash. We are currently rewriting it in HTML5. Since we released it a few years ago, it has boosted substantially the revenue and the number of loyal players of our customers.




Desktop C++ Clientfor Windows

Desktop Flash Clientfor Windows and Mac

Web Flash Clientfor Windows, Linux and Mac

The poker client is fully customizable. We will create it for you as you require it, with your brand name and preferred design, with the requested menu structure, additional gaming options and unique features, and available in all of the specified foreign languages. We will also support you in the integration of your customized poker client with any other online gaming software that you have or that you wish to integrate it with: online casinos and
online sportsbooks.
Quick Tour
Please take next a quick tour of one of our most successful poker clients that we created and continue to upgrade for one of our customers.
Main LobbyWhen a player launches the poker client, desktop-based or web-based, the main lobby is opened.

The main lobby is the main window of the poker client. Here, players have direct access to all elements of the poker client: online poker tables and tournaments, the cashier (for depositing and withdrawing funds online), information about the currently running promotions and available jackpots, integrated third party online gaming software (casinos and sportsbooks), etc.

Players can easily choose which of the available online poker tables to see listed in the main lobby, by clicking on the corresponding tabs - for game type, game limit and stakes range.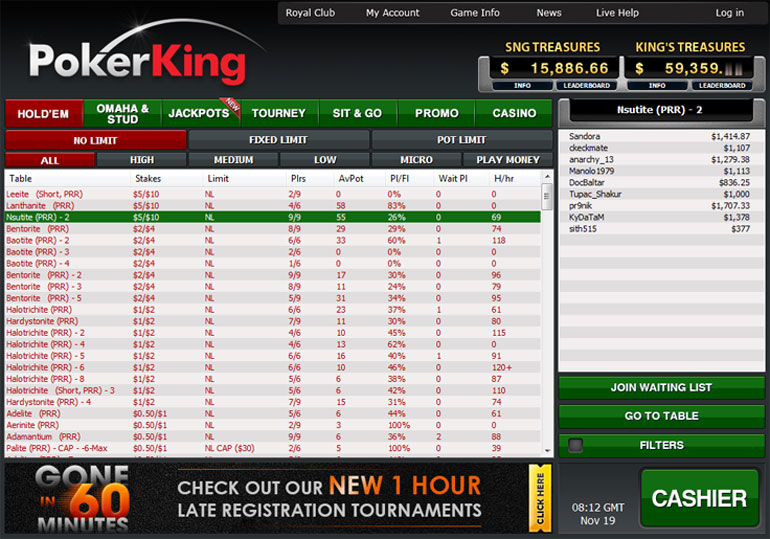 Poker TableThe online poker tables of the most popular poker game type in the world, Texas Hold'em, are listed in the main lobby by default.

When a player clicks once on an online poker table in the main lobby, information about it is displayed in the right panel. When a player double-clicks on an online poker table in the main lobby, it is opened for him or her to observe and join.

There are lots of special features that players can enjoy on our online poker tables that add to the players' positive gaming experience. Some of them are: table chat, table session statistics, game replayer, player notes, preferred seat and many other advanced gaming, sound and display settings.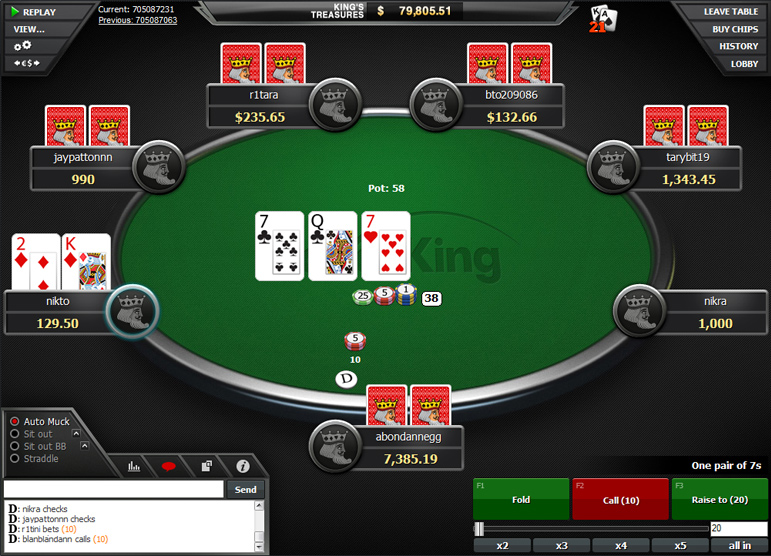 Tournament LobbyIn order to start playing tournament poker, a player just has to open the tournament lobby, by clicking on the "TOURNEY" tab, for scheduled tournaments, or on the "SIT & GO" tab, for sit & go tournaments.

We offer on our platform more online poker tournament types than most seasoned poker players have even heard of. Some of the most popular of them are: jackpot tournaments, scheduled tournaments, sit & go tournaments, late registration, re-entry, cage, guaranteed, on demand sit & go, cross network, satellites and many more.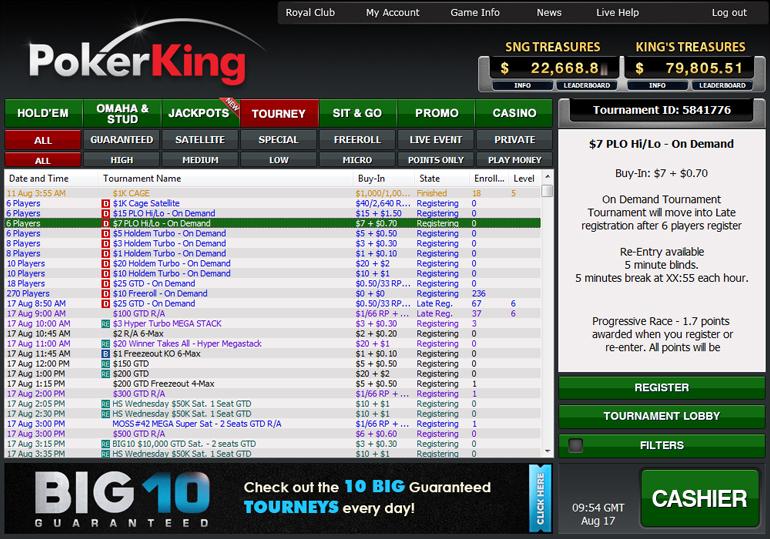 Inside Tournament LobbyWhen a player clicks once on an online poker tournament in the tournament lobby, information about the tournament is displayed in the right panel and also the player can register in the tournament by clicking on the "REGISTER" button. When a player double-clicks on an online poker tournament in the tournament lobby, the inside tournament lobby of the tournament is opened.

Here, players can see all the details of the tournament (prizes, other registered players and further details), register in the tournament or just observe one or more of its tables. Our poker client also offers players a unique opportunity, to register in a tournament by playing slots!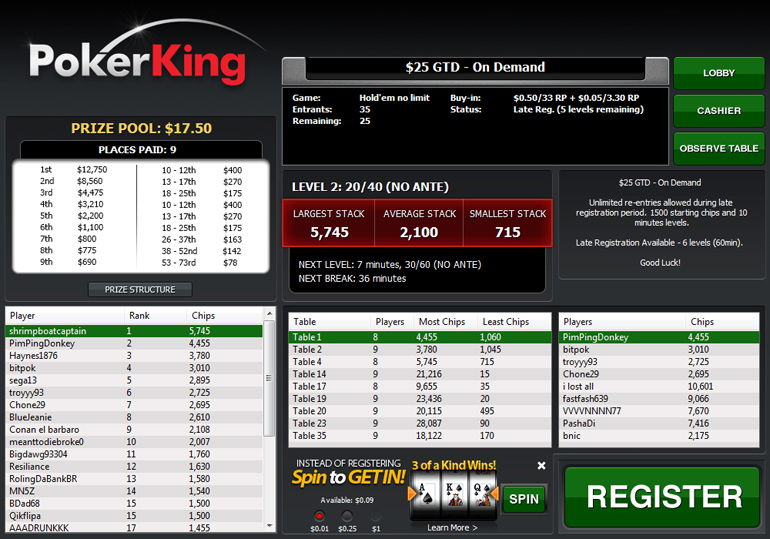 Jackpot TournamentsWe developed recently a great new online poker tournament type that combines tournament poker with jackpots -
jackpot tournaments.

Players can see the available jackpot tournaments and register in them after clicking the "JACKPOTS" tab in the
main lobby.

Jackpot tournaments give players the chance to win a large additional jackpot, selected randomly when the jackpot tournament starts.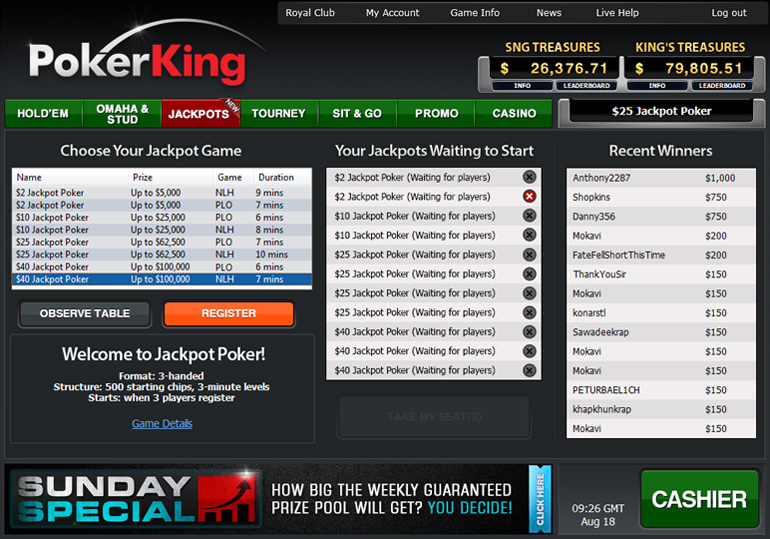 Jackpot Tournament TableJackpot tournaments have been a great success, increasing the revenue of some of our customers by as much as 30%!

We even developed a dedicated web client application (Standalone Jackpot Tournaments Client) especially for jackpot tournaments, to meet the growing demand for this new type of tournament poker entertainment.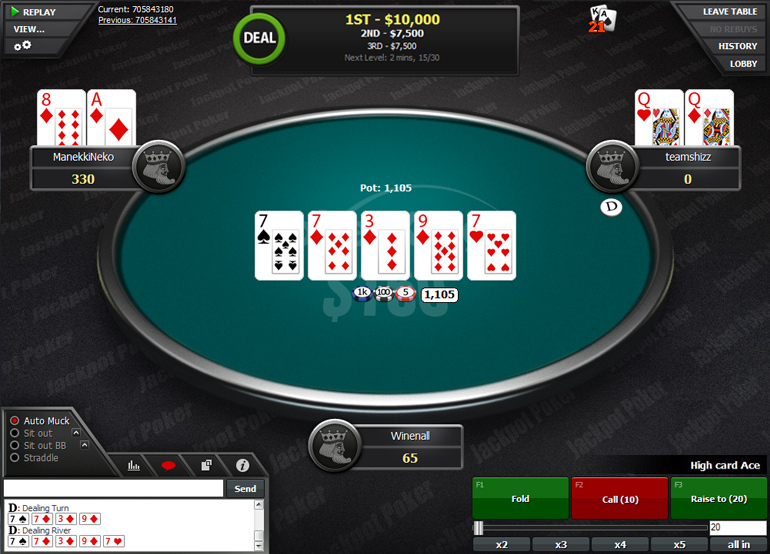 CashierPlayers can easily deposit more funds, with which to play online poker, by using the cashier.

The cashier can be fully customized as well. It can be made available embedded in the poker client, known as embedded cashier, or on a secure web page, known as web cashier.

In the cashier, players can deposit and withdraw money, view their transaction history, convert promotional money to real money and in general perform any financial operation that they will
ever need.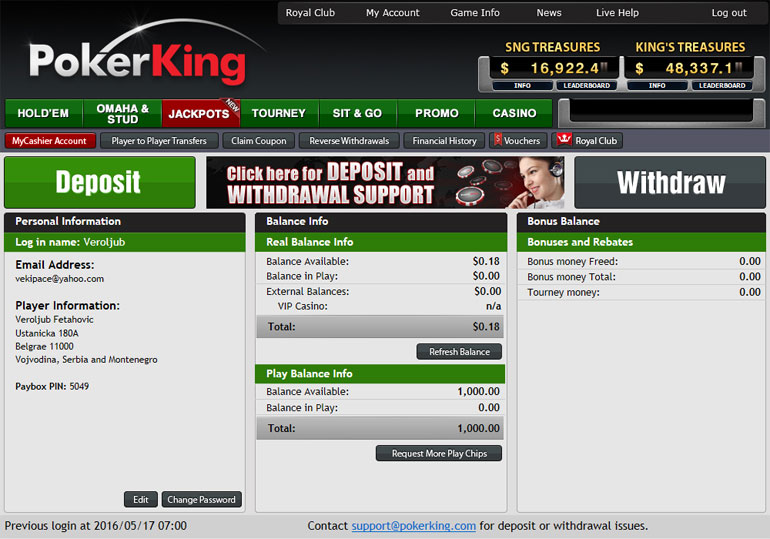 If you have any additional questions about our poker client, please feel free to contact us at any time.